January 2023 Newsletter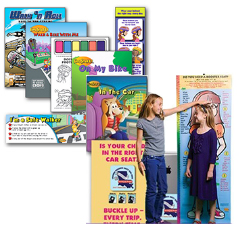 January Specials*
New Year, fabulous monthly specials. This month you can get ten percent off Child Passenger Safety print products on orders of two hundred dollars or more. You can also get ten percent off Bicycle & Pedestrian Safety print products on offers of two hundred dollars or more. Simply visit our website and use promo code: JAN23 at checkout.

Complimentary Resource
In recognition of the New Year that's in full swing, we would like to provide you with a 2023 Health & Safety Days Calendar. This handy reference highlights all the family and safety dates to come, while also being mindful of Federal Holidays and Daylight Savings Time.

In The News
Parents may not be aware that household injuries are one of the top reasons children under three years old visit the Emergency Room each year. In a University of Alabama study, first-time moms were taken through a model home and asked to point out any potential hazards. The moms could identify fewer than half of them. You can use this interactive graphic from Safe Kids Worldwide to help parents understand some common areas to childproof.

Browse The Blog
Learn about rising and alarming statistics when it comes to Firearm Safety, help children practice safe recreation on Snowmobile or ATV, and consider some tips for the New Year that go beyond festivities recently had on NYE. Do you have specific topics you want to learn more about in 2023? Let us know and we'll include it in an upcoming Blog.







Helpful Tips For Parents
Over four million American children live in homes with guns that are both loaded and unlocked. And each year, nearly seven hundred children ages 17 and under die by suicide with a gun. Be SMART for Kids offers families helpful tips and reminders and encourages parents to have important conversations around firearm safety.

| | |
| --- | --- |
| For many students, January means a return to school after a holiday vacation. The first days back after winter break may come with challenges in settling back into a normal routine, and in the need for a safety refresher. The Safe Routes to School Activity Coloring Book serves as a great reminder on helping drivers see kids, what traffic signs and signals mean while walking or riding, and more. You can also see how the Be A Friend, Not A Bully Banner can be customized and used in the classroom. | |

*Offers expire on 1/31/23. Offers may not be combined for the same item.
I'm Safe has worked with Public Health Educators, Schools, Traffic Safety, SRTS, Safe Kids, Head Start and Community Outreach Coordinators for over 25 years. We translate research and best practice into engaging health and safety education materials for all age groups, from children through adults. We specialize in adapting or translating materials to fit your program's needs.
Our mailing address is:
75 Mechanic Street
Rockland, ME 04841
-->