March 2023 Newsletter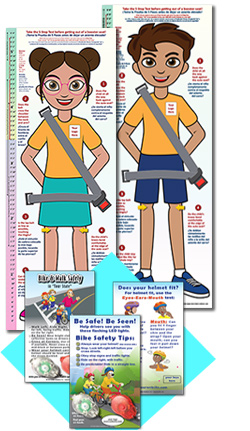 February Specials*
Valentine's Day is quickly approaching, love is in the air, and so are more monthly specials to show our continued appreciation and support for the work you are doing.
Meet Kai and Luca, our newest Child Passenger Safety Standups. Children love to run up to these banners and see if they might be tall enough to ride on the vehicle seat. The Five-Step test in both English and Spanish helps inform parents. This month, we are waiving set up fees for Child Passenger Safety Standup Banners. Use this code: FEB23 at checkout.

You can also get ten percent off Bike/Ped Lights & Cards with no setup fees on orders of two-hundred-fifty-dollars or more. Help make riders and walkers more visible and add your own logo and contact information to personalize the message. See for yourself in this video. Use code FEB23 at checkout.

Head Start Helpful Resources
Our friends at Safe Ride News recently encouraged Child Passenger Safety (CPS) Technicians to reach out to Head Start programs in their communities. But what if you find yourself feeling uncertain about what materials to use when approaching Head Start teachers, parents and students? We can help! We have a wealth of CPS options for Head Start programs including Storybooks, Teaching Cards, and a complete Head Start Car Safety Education Kit, all based on AAP and NHTSA guidelines.

In The News
Super Bowl Sunday is one of the biggest drinking days of the year. An analysis of NHTSA data found that "alcohol-related traffic fatalities were 74% higher on Super Bowl Sunday compared to the week before, and 82% higher than the following week." In fact, more alcohol-related accidents and DUI-related injuries occur on Super Bowl Sunday than on any other day of the year, aside from New Year's Eve. NHTSA goes on to say that 10,142 traffic deaths involved drunk driving in 2019, with numbers increasing each year since. You can help parents and friends prepare to be safe and enjoy the game with Risky Driving prevention resources such as Pledge Cards, Bookmarks, and more.

Browse The Blog

Our latest Blog article focuses on Online Child Safety. A survey last year from the Pew Research Center found that approximately 46% of U.S. teens experienced cyberbullying in high school; that's an increase of 30% in just three years. We discuss some of the most popular social media channels, including Instagram and TikTok, and tips on how we can encourage children to act safely and responsibly online.





Upcoming Events
March is Brain Injury Awareness Month. Did you know that 1 million Americans are treated and released from hospital emergency departments as a result of a traumatic brain injury? Recent data shows that there was over 64,000 TBI-related deaths in the United States over the span of just a year. Help raise awareness about concussion prevention with the I'm Safe! What Happens To Your Head Poster, a visually appealing resource that shows "concussion dynamics" and also lists symptoms and steps to take as a result of a concussion. We also have a variety of Sports & Recreation items available.
| | |
| --- | --- |
| St. Patrick's Day is right around the corner too. Remind teen drivers and parents to plan ahead and prevent drunk driving or any kind of impaired driving this holiday. We have created this meme download as PDF with customizable fields so you can easily type in your information and share it on your social media. In order to post the meme on social media, simply convert the file into a JPEG format. You can download this customizable St. Patrick's Day meme here. | |

I'm Safe has worked with Public Health Educators, Schools, Traffic Safety, SRTS, Safe Kids, Head Start and Community Outreach Coordinators for over 25 years. We translate research and best practice into engaging health and safety education materials for all age groups, from children through adults. We specialize in adapting or translating materials to fit your program's needs.
Our mailing address is:
75 Mechanic Street
Rockland, ME 04841
-->